│Exercise Scheduling│ER Organization│Organization Chart│Back│
Emergency Response (ER)
In case of accident, to take action to prevent to be a crisis The Impact of Proactive vs. Reactive Forces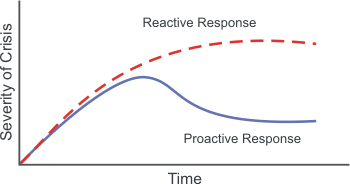 Incident can occur fairly regularly and often do not escalate to the point of an emergency or crisis.
Each incident should be mitigated as quickly as possible and monitored and evaluated to ensure that it does not escalate to crisis.
Additionally, an incident can serve to identify prevention efforts which could decrease the likelihood of the incident occurring again.
Immediate effects are often local in nature (i.e., on site fire; pipe burst with oil spilling into containment dikes; or computer malfunction)
Impacts typically are short-term (i.e., minor loss in production time; minimal air pollution due to fire smoke)
On-site local area resources are generally adequate to respond to and manage the situation
May or may not have potential to escalate into a crisis
Timeframe for action is extremely limited
Limited and often conflicting information regarding the situation,
Potential to impact the organization with long-term consequences
May require significant corporate resources (financial support, staffing management and technical expertise, etc.) to respond effectively
Off-site and contract resources are usually required
Timeframe for action is extremely limited
Limited and often conflicting information regarding the situation
Disasters are thought of in terms of natural disasters and the consequence of these events on a specific geographic area.
Disaster example include the flooding, earthquake, etc.
The focus of emergency management tends to be tactical; i.e. to "put out the fire" and manage all the activities associated with that task.
Notification of response personnel that an incident has occurred
Managing  emergency resources and response activities at the site (i.e. fire brigade, evacuation teams, etc.)
Ensuring that any and all necessary equipment is either in place or on way to the site
Crisis management encompasses tasks associated with overseeing the management of emergency response, but it focuses on the consequences and strategic aspects or impacts of the incident.
A crisis team usually has oversight authority with regard to the emergency management efforts.
The strategic and long-term consequences of the incident should be the main focus of a crisis management team. In the fire example used above, the crisis team should be considering such issues as:
The impact of image, and the need/parameters of humanitarian or claims efforts for the surrounding community
The impact of the crisis on a pending contract to build a similar facility in the town 10 miles away
Other long-term business consequences that may arise from an emergency or other circumstances
An effective exercise program
Developing high-quality exercise activities.
nternal benefits



Enhancing capability
Improving coordination and proficiency
Finding areas in need of program improvement
Validating existing plans and procedures
Externally-driven



Meeting regulatory requirements
Responding to political and public pressure
Demonstrating a commitment to preparedness and meeting expectations
Philosophy



alidate capabilities vs. Test
Training vs. Exercising
Mix of Exercise Activities
Exercise Scheduling
Overall Exercise Cycle

Exercise Scheduling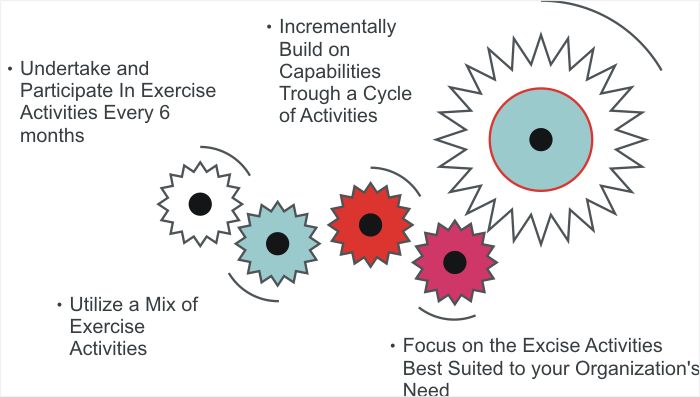 The Exercise Process Cycle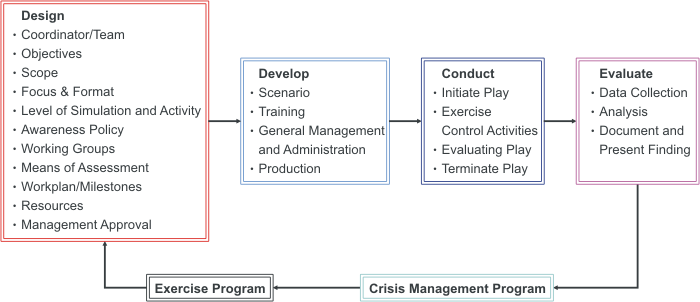 Function of an Management System


ER Organization
3.1 Crisis Response Organizations
Crisis Response Organizations will be established in accordance with Appendix 3A in the event of an emergency.
3.2 Crisis Management Center
Following organization and staff will be deployed in the CMC.
Crisis Command Board
Crisis Director



Information Team
Support Team for Departments concerned
Crisis Communication Director



Crisis Communication Team
3.3 Special Assistance Center
Following organization and staff will be deployed in the SAC.
SAC Principal
SAC Director



Special Assistance Team Center
Manifest Team
Support team
Telephone Enquiry Center
Family Assistance Team
Logistic Support Team
3.4 Site Operations Center
Following organization and staff will be deployed in the SOC
SOC Principal
SOC Director
Family Operations Center



Administration Team
Special Assistance Team Center
Family Center
Technical Team



Investigation Team
Aircraft Recovery Team
Crew Support Team
Cargo & Mail Team
Site Media Center
3.5 Operational Headquarters and Departments Concerned
- 3.5.1 Department dispatches its staff to the CMC (Appendix 3E)
Corporate Planning
General Administration (In charge of Legal Affairs)
Flight Safety
Airport & In-Flight Services - Airport Services (In charge of Cargo & Mail Services)
Airport & In-Flight Services - In-Flight Services Administration
Operations Control - Administration Group
Operations Control - Security & Emergency Response Planning Group
Flight Operations - Administration Office
Flight Operations - Flight Operations Standards Office
Maintenance Administration
- 3.5.2 Department dispatches its staff to the SAC (Appendix 3F)
General Administration
Personnel
Finance & Accounting
Sales & Services
3.6 List of staff deployment Staff deployment List (Appendix 3G)

Appendix 3A Organization Chart-General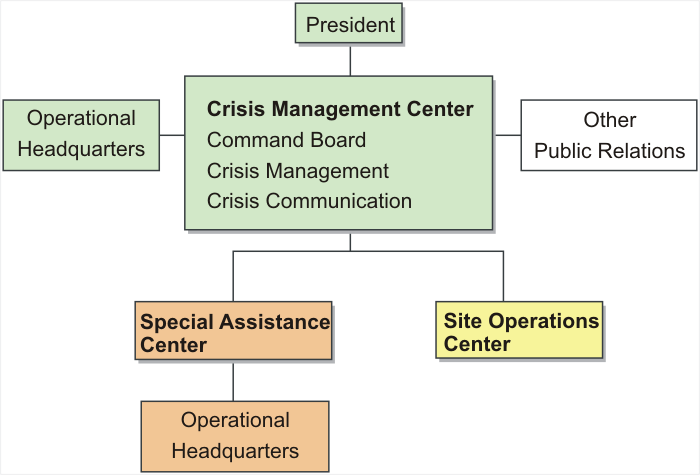 Appendix 3B CMC Organization Chart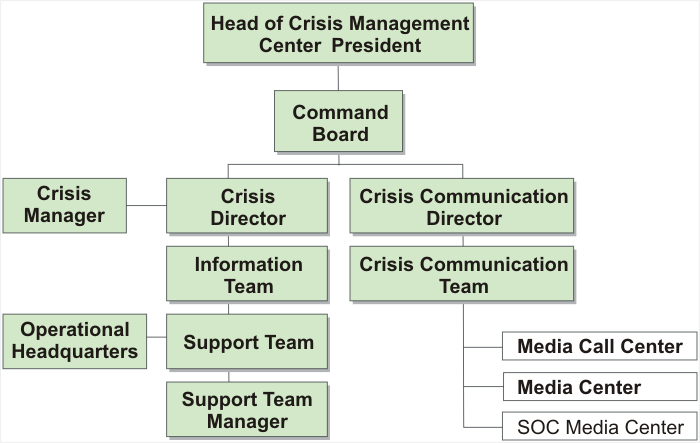 Appendix 3C SAC Organization Chart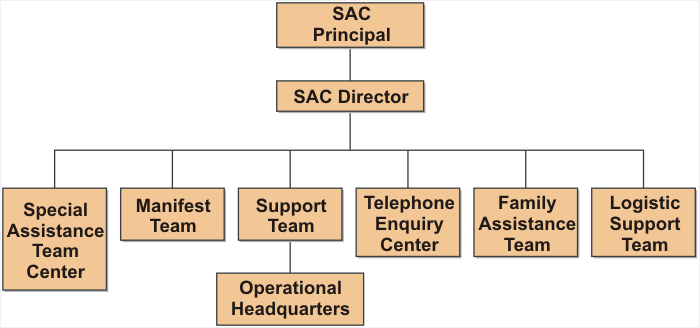 Appendix 3D SOC Organization Chart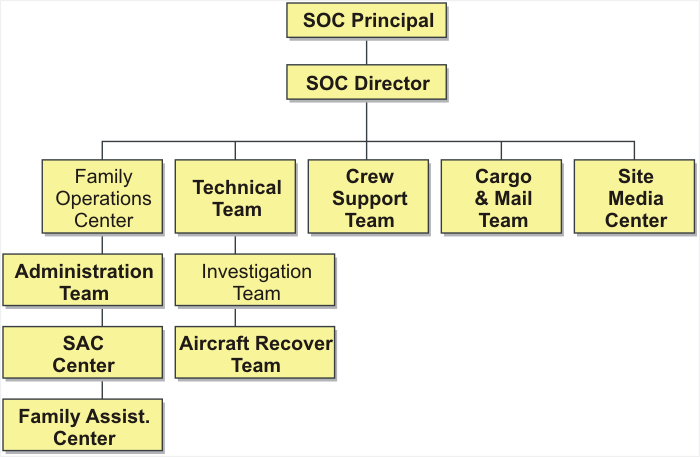 Appendix 3E Departments dispatches its staff to CMC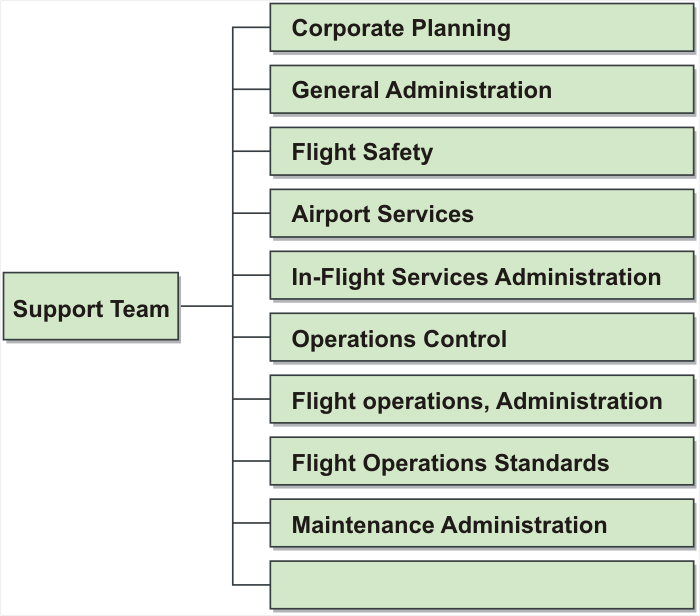 Appendix 3F Departments dispatches its staff to SAC